Meet Aria Winters, the lovely founder of this legacy. She's just arrived in Twinbrook and is hell bent on becoming a rock star and stealing everything that isn't bolted down.
First things first though, it's time to set up a homestead!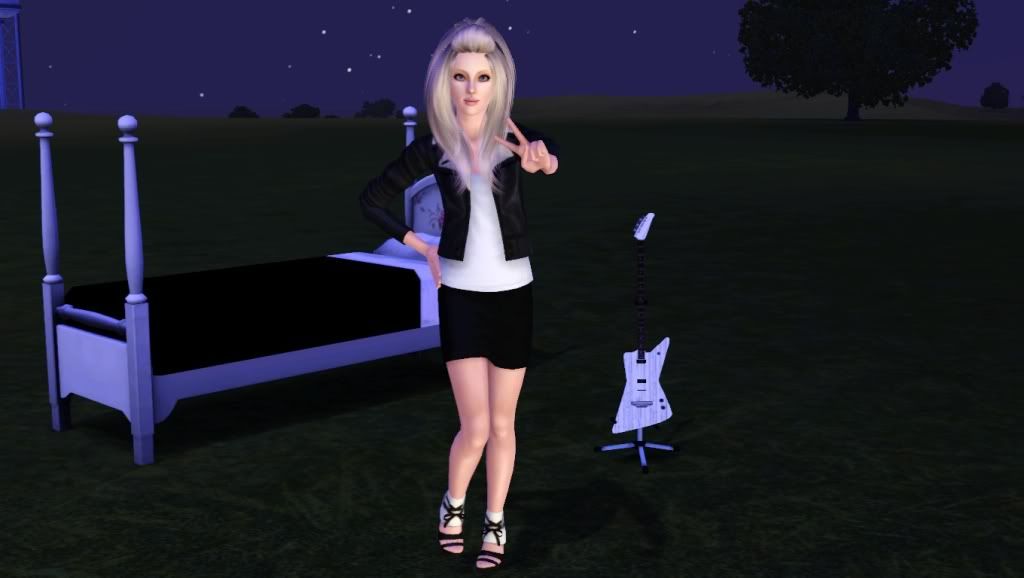 Yeah Aria... just like that. When strapped for cash I always choose guitars over showers or food too. An investment in the future I suppose.
Oh well. It's been a long day moving in...or something like that... so Aria promptly falls asleep in her new bed.
And dreams of muscular men. All in good time Aria ;]
The next morning it's time for a trip in to town to start her career.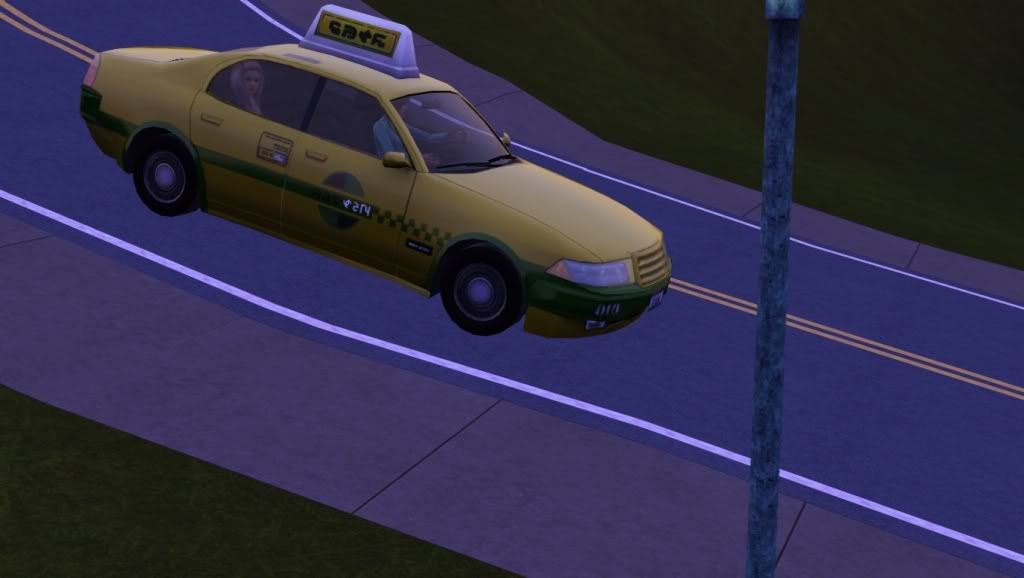 Hope that nice cab driver doesn't expect to be paid.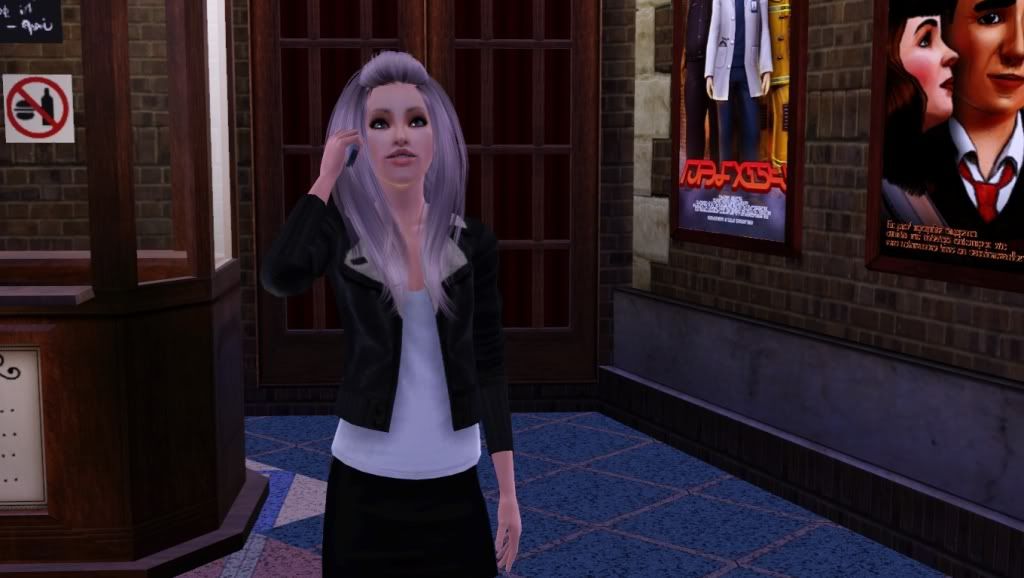 Aria lands the job (as a lowly fan, but we all have to start somewhere) and just has to call up someone to share the news. So she calls the only person she's met, her new boss that hired her about two seconds ago.... brilliant.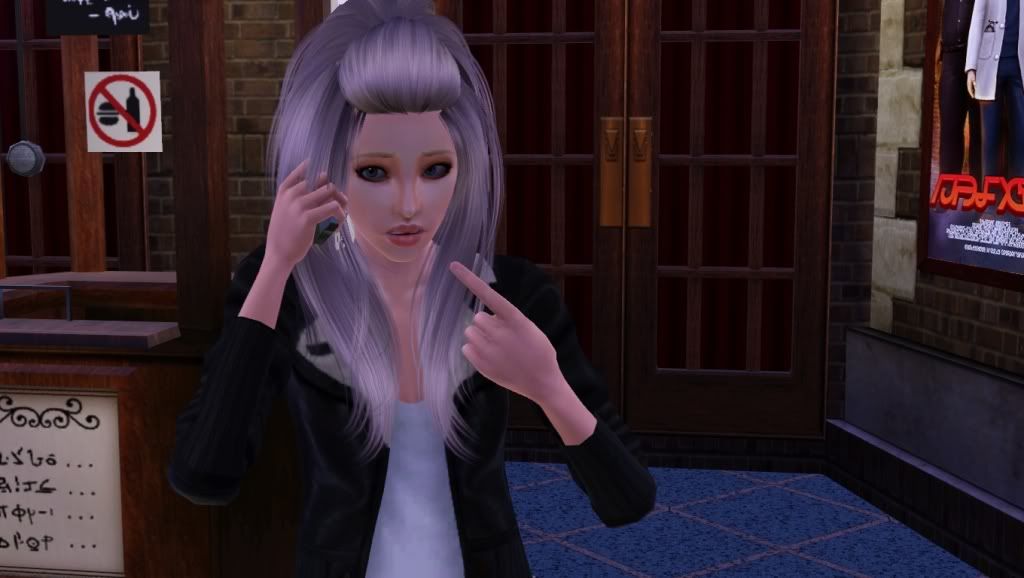 Aria:
"What do you mean 'why the hell am I calling two seconds after I left?'"
Now that's shes off to a great start on her career (or perhaps already making a fool of herself if you're normal person) it's time to take care of some more mundane needs. First up, Food!
Like always it's a lovely day out (hey the lady with no roof can't really complain about not having weather), so Aria heads to the park hoping for a picnic to join.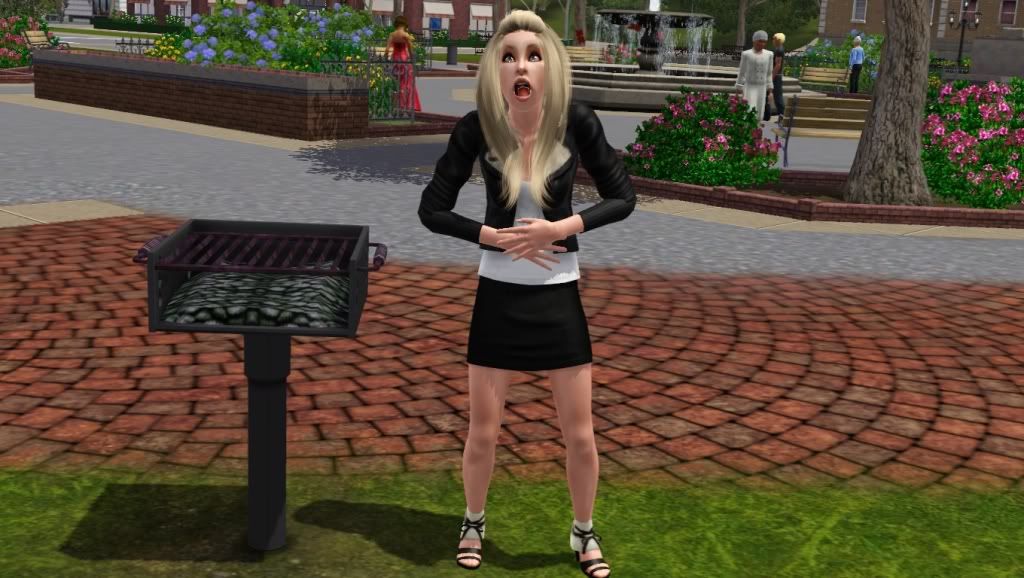 Unfortunately she has no such luck. And with exactly 0 simoleons to her name, Aria can't even afford some hot dogs to grill up.
Aria:
"Please insert food stuffs nao."
At this point Aria ran in the bathroom... to fight herself in the mirror? I swear she doesn't have the insane trait.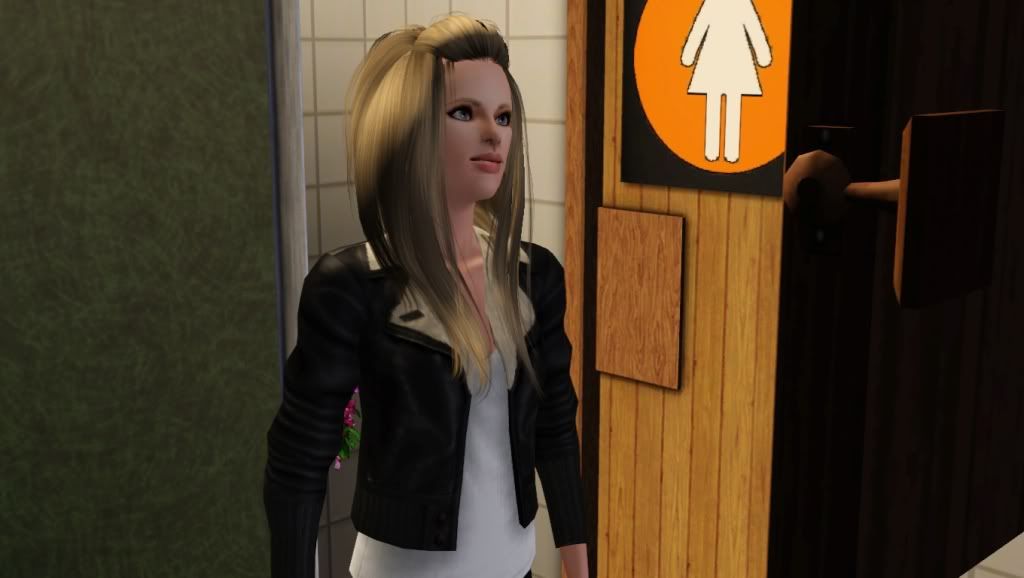 I guess she won?
All this excitement had Aria hungrier than ever. Luckily she had a new plan. She'd find someone to make hotdogs for her! Brilliant.
This random townie wearing a gown in the middle of the park looks like the perfect friend for Aria.
So, Aria called her new friend over the the grill and kindly asked her if she'd like to have a BBQ.
Aria:
"MAKE ME SOME HOTDOGS!"
Which went about as well as expected.
Now friendless and hot dogless without a muscular man in sight, Aria was clearly not pleased at how things were going.
It's time for Aria to get some food like a true Klepto, by walking in to someone's house and raiding their fridge.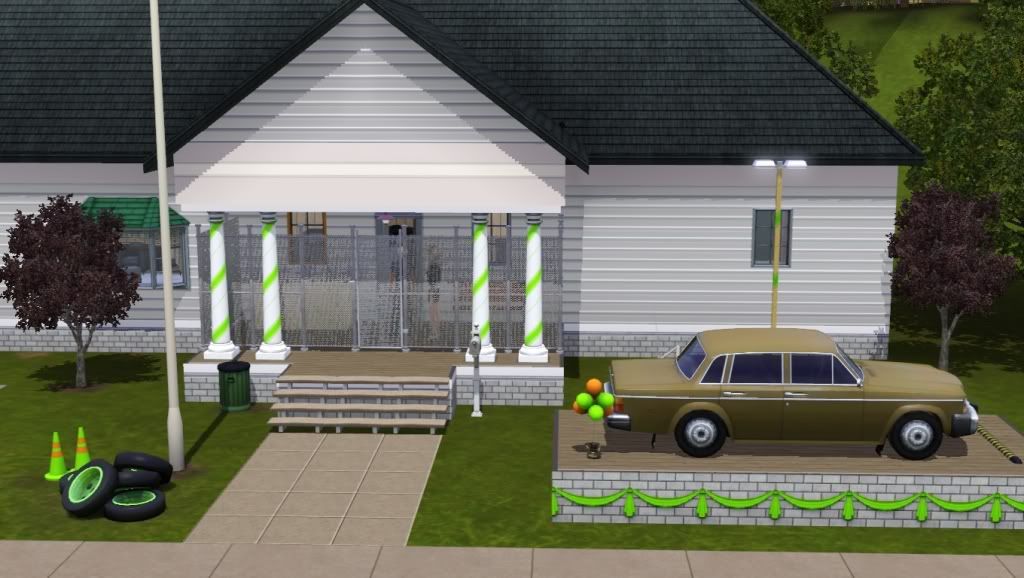 And out of all the houses in Twinbrook she chooses this one with tires out front, balloons, and a caged in entrance. And why is the car on a pedestal? I'm not even sure if it's a house or a car dealership.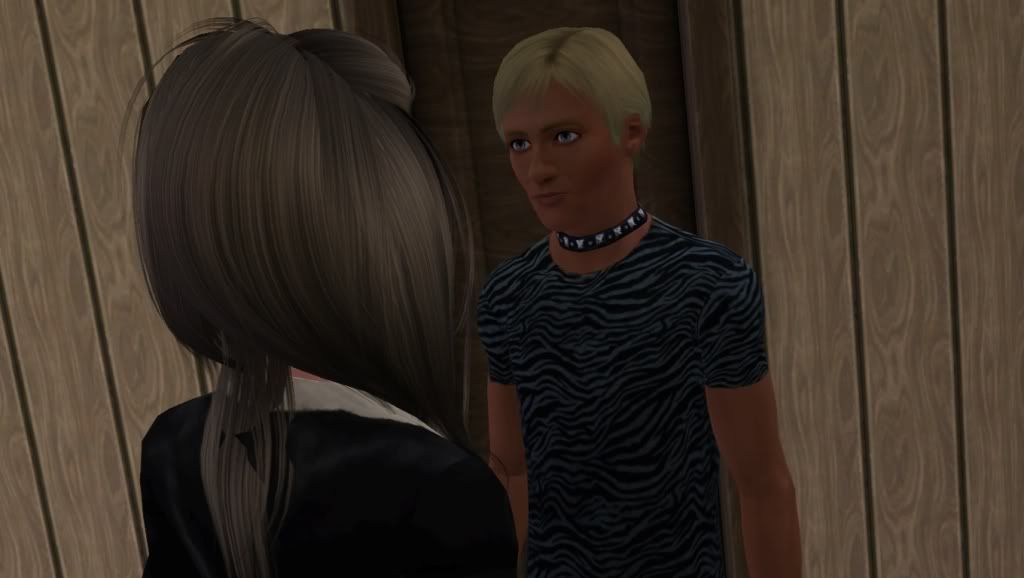 But this sullen looking teen answers the door, so someone must live here.
Aria isn't here for chit chat though.
She's here for cereal.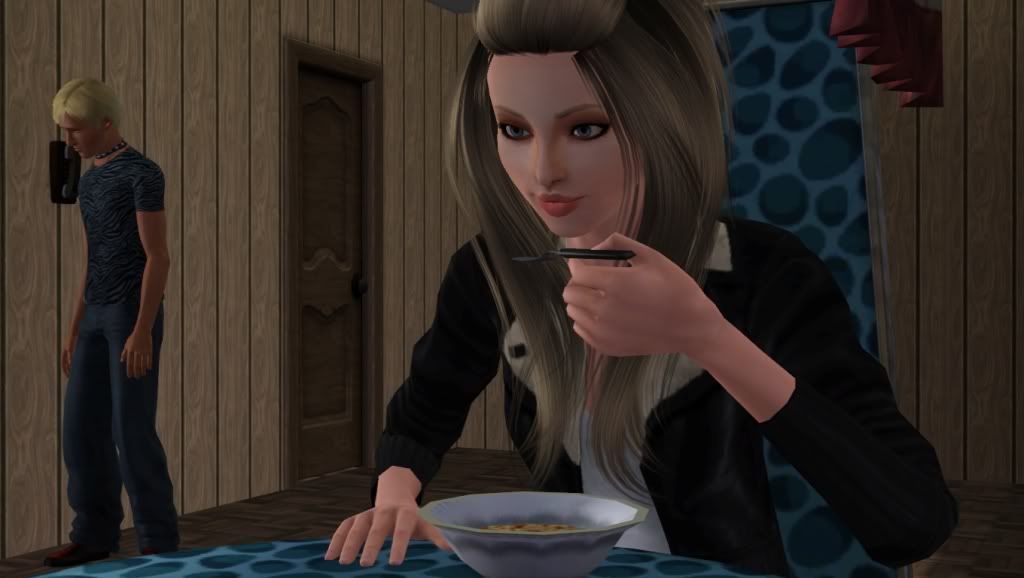 Aria:
Your misery tastes delicious.
She takes her dishes to the sink and what is this... regret for her theify ways?
Nope, just bathroom time.
Aria isn't a big fan of the decor.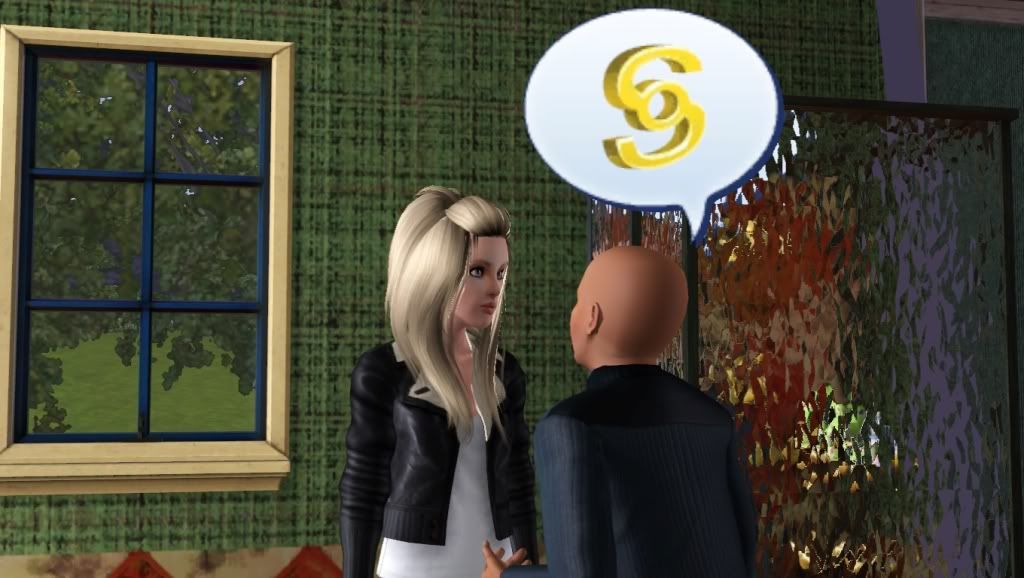 I think the random bald kid wants to know if you're going to pay them back for that food Aria.
Aria:
Uhhh...
Time to go!
And since it's already super late (or, ya know, 5pm) Aria is exhausted. So she heads home and goes to sleep. Better rest up Aria, cause tomorrow you're going spouse hunting!